LuxuryRehabs.com Listing Upgrade
Enhance your presence on the #1 site for high-end rehab discovery. 
A large, attractive cover image (especially stunning on desktop) that gives users a great first impression of your center. 
2. Expanded Photo Carousel
Full-width carousel with the ability to add unlimited images of your center. Basic version is limited to 3 images per center. 
3. Expanded Contact Section
Add your logo, as well as links to your social media channels. 
4. Expanded About Content
A well-written,  informative about section can go a long way towards attracting clients to your center. With the upgrade, you can submit a description up to 500 words. (Basic limited to 1-2 paragraphs and 100 words) 
We believe video is one of the best ways for a treatment center to tell their story. Add a video of your choice to your profile page. 
Draw attention to unique or especially attractive aspects of your program with our callouts. Choose an image, title and short paragraph for each one (Up to 3). 
Show off your team's expertise by adding a Staff section. Display images and qualifications of key staff members. 
This section is highly flexible, allowing you to link to up to 3 urls of your choice. You can link to a key blog post on your site, a write-up in a popular news publication, or even a PDF brochure. 
Choose a testimonial that you'd like to feature either from the review section or your own site. 
10. Removal of Suggested Center Section
Basic profiles contain center suggestions in the footer. These are removed on the enhanced profile.
11 (NEW). Quick Contact Bar on Mobile
Boost call and contact form conversions with our mobile "quick contact" bar.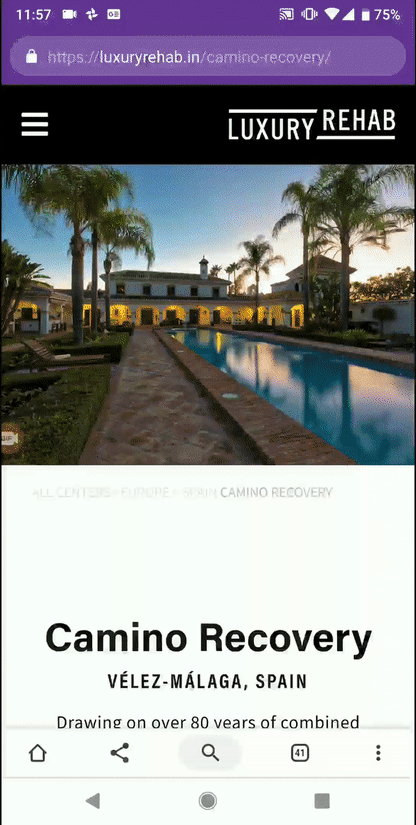 Bonus Feature: Expanded Summary Card
For a limited time, you may qualify for an expanded summary card at no extra cost. This feature gives you a larger, more appealing presence on location, specialization, and general search pages throughout the site. 
$

333


Per Month (billed annually)

Additional Content Sections

Much More (see page example above)

Paid placements throughout site

Social Advertising and Retargeting

Additional Content Sections

Much more . . (see example above)

Paid placements throughout site

Social Advertising and Retargeting
Download our Media Kit
Learn more about our
LuxuryRehabs.com
website, its unique and valuable audience, and advertising opportunities for treatment providers.